Rules
***2016 Rules***
Secretary-Treasurer
Art Cline
1320 Wagy sq.
Pataskala, Ohio 43062
614-557-9103
Board of Directors
Robert Cross 740-891-1175
Gary Campbell Jr. 740-408-3382
Randy Garber
Tech Inspector

Reed Cline 614-425-8152

Safety Inspectors
Don Cross

Bob Tubbs

Ike Garber
Membership Dues
1. Fifty dollars per person per season
2. A ten dollar late fee will be charged after March 1st with no exceptions
unless you are a new member
Make checks payable to the order of
Central Ohio Mini-Modified Tractor Club
1320 Wagy Sq
Pataskala, Ohio 43062
Work Days
1. The 4th Saturday of March and the 2nd Saturday of April at 12:00 pm.
2. All members are expected to be in attendance
Entry Fees
1. Members $15 per class per tractor
2. Non-members $25 per class per tractor
3. Entries are closed after first hook of class
4. there is a $30 charge for returned checks.
Prizes and Payback
1. 1st thru 5th will receive 90% of entry fee in their class
2.At away pulles we will pay eight (8) places.
3. omly member will receive additional Prizes at "NATIONALS".

Inclement Weather
1. If two-thirds of a class has been run the class is considered complete,and all remaining trctors will be issued ONE hook point
2. If half of pull is completed, the event is considered complete with no rain date
3. in the event of a rain-out, the pull will be made up on the following Saturday during the month of May
4. June through September there will be no make-up dates for a canceled pull.
Points System
1. Only members collect points and the points go to the tractor, not the driver
2. All pulls that our club sled is at are points pulls
3. tractor must have membership number on both sides
4. tractors accumulate points for the season championship in this manner:
1st Place = 6 points
2nd Place = 5 points
3rd Place = 4 points
4th Place = 3 points
5th Place = 2 points
All otherentries receive 1 "hook" point
Track Crew
1. Flagman has final say on track operations
2. sled operator has final say on gear changes
3. the first five pullers of the previous class are required to work the class following their class. This will be strictly enforced in order to keep the pull flowing smoothly. If you cannot work the track it is your resposibility to find a replacement for your duties
4. Failure to work the track or have someone work for you will result in disqualification for your class
Safety equipment
1. Must wear SFI approved single layer fire suit or better
2. Drivers must wear " FULL FACE " DOT approved helmet
3. All tractors must have an A.B. type fire extinguisher within reach of driver
4. All drivers are required to wear a properly secured Four point Harness during competition.

Driving Requirments
1. Must be 15 1/2 years old with valid drivers permit
2. Minors must have parental consent if under 18 years old
3. Driver must be able to operate all controls with no problems
4. Driver must be in seat at all times when tractor is running on and off of track
5. Driver must have one hand on steering wheel at all times
Classes of Competition
Two 1750# Sportsman Small Block
Two 1850# Small Block Rail
Two 2000# Single Carb Rail
Two 2000# Open Rail
"Sportsman" Small Block Class Rules
1. Small block Chevy,Ford or Mopar Only.Must be first generation OEM cast iron block.

2. Maximum of one gas carb with choke horn
3. Must run stock height valve covers with only one stock height valve cover gasket
4. Must run stamped steel rockers and stock adjusting nuts, no roller rockers of any type
5. No roller valve train of any kind
6. Automatic transmissions only
7. HEI or dual point ignitions only. No ignition boxs
9. Must run OEM dual plain intake or Edelbrock Performer RPM intake only. No air gap intakes
10. Must run OEM cast iron heads. No aftermarket heads. No cleavland heads on Ford engines.

11. No aftermarket blocks.

12. Maximum of ONE 1" carb spacer or adapter
13. Maximum of 31-15.50-15 tires
14. Each tractor must be inspected befor first pull and may be checked at random at all events
15. Must pull off valve cover and air cleaner when checked
16. no stroker oil pans and no modifications to oil pan to clear for stroking allowed
17. maximum of 8' from center of rear axle to furthest point forward
18. maximum of 6' wide
19. must run gas only. no alcohol, ethanol or E85
Small Block Rail Class Rules
1. Maximum of one automotive type engine of small block design
2. Maximum of 415 cubic inches
3. Natural aspiration only
4. Maximum of 8' from center of rear axle to furthest point forward
5. Maximum of 6' wide
6. Maximum tire size of 18.4 x 16.1
7. No aluminum blocks
Single Carb Rail Class Rules
1. maximum of ONE automotive type engine
2. No aluminum blocks
3. Maximum of 520 cubic inches
4. Maximum of 8' from center of rear axle to furthest point forward
5. Maximum of 6' wide
6. Maximum of 18.4 x 16.1 tire
7. Limited to a single carburetor.
8. Naturally aspirated only
9. Must have three tractors entered to offer class. If less than three enter the entries will be placed into the N/A Rail class
Natually aspirated / Blowen Small Block Rail Class Rules
1. Maximum of ONE automotive type engine
2. Maximum of 575 cubic inches
3. Maximum of 8' from center of rear axle to furthest point forward
4. Maximum of 6' wide
5. Maximum of 18.4 x 16.1 tires
6. Blown small blocks have the following limits
A. Single 8-71 supercharger , 7.0% overdrive. with SFI approved supercharger restraints
B. Supercharger must be retro style, no "delta" openings
C. Cylinder heads must be a 23 degree design
D. No offset rocker arms
E. Maximum of 370 cubic inches
F. Engine block must be a 1955-1975 first Gen. style
G. Aftermarket blocks are approved
7. Big blocks are naturally aspirated only
8. Must have spring on linkage of injection and on barrel valve
9. Compact Diesel tractors may run at 2050# and 15" hitch
10. If single carb rail competes in N/A Rail class they may run at 2050#
Hitches / Drawbar
1. Minimum thickness of 3/4" steel and maximum of 1" thick steel
2. Minimum of 2" hole for hook
3. Minimum of 6" back from center of rear axle to hook point
4. Maximum height of 13"
5. Hook must rest freely in drawbar
6. Minimum of 3/8" (1/2" for N/A Rail ) safety cable that loops around rear-end and double clamped at any splice. Hook must rest through the safety cable when hooked to sled. If cable goes compleatly around third member it must over top the pinion shaft.
7. Must check in with WHITE checker and check out with RED checker
8. Must be free of obstructions for hook,chain and checkers
9. Hitch must be checked out after each run by flagman immediatly after run
10. Hitch must be secure in all directions.
Wheelie Bars
1. Must be able to support tractors weight
2. Minimum of 3" contact pads or 1" x 5" wheels
3. Maimum of 5" from contact point to ground
4. Minimum of 6" from center of rear tire to contact point
5. Minimum of 12" push bars that extend vertical from back of wheelie bars and ties back into frame
Kill Switch
1. Must have testable kill switch that suts off the engine
2. Must be within 6" radius of center of seat
3. Kill switch must have 2" steel ring for kill switch cable attachment
4. the 2" ring must be welded or brazed closed
5. If kill switch fall out after 75' run is over
6. If kill switch is accidentally pulled, puller may run again
7. Diesel tractors kill switch must shut off air supply to the engine
8. Any ground to kill ignition must compleat circuit though a relay, Trailer breakaway switchs to ground Ignition is prohibited.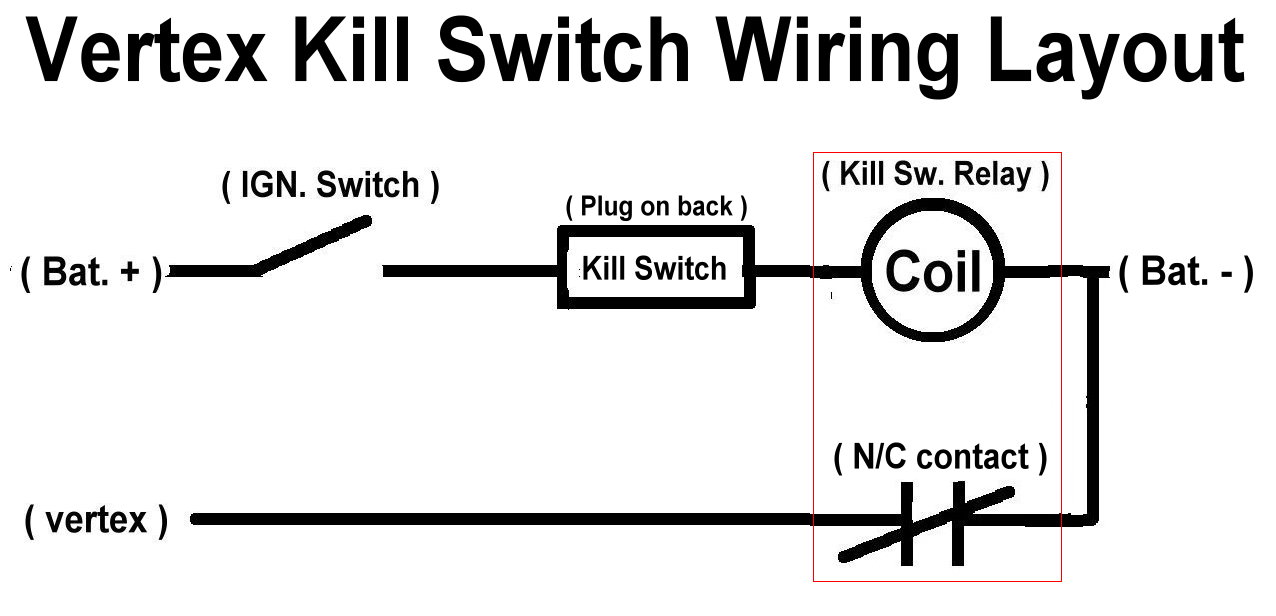 ( Example: NOT JUST FOR VERTEX!!! )

( For any and all circuits that must close the circuit to kill engine )

9. Extintion cord plugs or " Cord Caps " are prohibited.

Brakes
1. Must have working individual brakes.
2. Driveline brakes are prohibited.

Throttle
1. Throttle must bring engine back to idle, un-assisted, when released
2. Throttle must snap back to closed position
3. Must open in forward motion
4. All throttles must run Dual return springs
Transmissions
1. Must have SFI approved bellhousing on gearboxs or manual transmissions
2. If bellhousing is not made for application, bellhousing must be covered in 1/4" steel
3. Must have SFI blanket or sheild on automatic transmissions
4. Must run torque converter dust sheild
5. Must only start in park or neutral
6. Final drivline must be covered 360* in 1/4" steel or aluminum for its intire length
7. Must have reverse lockout that is self-operating
8. Must have audible or visual backup signal that is clearly heard or seen from rear of tractor
General Rules
1. No portion of tractor may touch sled
2. Any event run under a "floating finish", the maximum measured distance is 340 feet. If more tha one tractor passes 340 feet there will be a pull-off
3. Weights must be securely fastened
4. All tractors must be equipped with a roll cage.
The Roll Cage must include the following
Two main hoops over top the driver, connected laterally with a minimum of two (2) tubes or bars. The roll cage must attach to the chassis with at least 4 attachment points via grade 8 bolts. Rollcage must be capable of supporting entire tractors weight. Suggested material is 1 ¼" DOM .058" chrome moly tubing or .083" mild steel.
5. Exhaust must be within 10* of vertical with at least 12" past last bend
6. No pressurized fuel tanks
7.No nitr0 methane or nitrous oxide
8. Must be able to shut off fuel from seat
9. Must have minimum of .060 thick side sheilds that cover full lenght of engine and from bottom of heads to 6" below center of crankshaft
10. Must have SFI approved harmonic damper or be covered 360* with 1/8" steel or aluminum with two 1" straps on front
12. No loss of ballast is allowed. Any item that falls on the track will result in disqualification. Internal mechanical damage excuded
13. Driver must maintain at least on hand on the steering wheel at all times
14.No engine driven fans. the top 270* of alternator belts must be sheilded
15. Maximum of 3 minutes to have sled moving after it is set and ready
16. Each tractor will have a Maximum of two attempts to move sled a measureable distance
17. All disqualifcations must be brought to track officials attention befor next tractor runs
18. Only one rider allowed in the seat
19. Tractor must be pointed down track when started
20. No children under the age of 15 are allowed in the competition area unless accompanied by a member.

21. Any tractor is legal to pull in the next higher class (i.e. injected small block may pull in single carb rail)
22. All tractor must be equiped with a pair of "skis" to prevent the front axle digging in following breakage. Skis should be be to support weight of tractor
23. Sled location befor, during or after a run does not matter. Tractor must be in bounds in ant chalk lined area. After the tractor goes past marked area, there are NO boundary lines
24. All class cubic inch limits have a 2% allowance
25. Any crankcase vent tubes must be run 6" from any bellhousing inspection hole.

Disqualifications
1. Tractor touches boundry line. Sled crossing boundry line is OK
2. Any loss of external parts or weights on track during run
3. refusing to end run when red flaged
4. Arguing or fighting in front of crowd or officials
5. Drinking alcohol befor or during event
6. Reckless driving of tractor or pit vehicle on or off track
7. Jerking of sled
8. Not passing inspection
9. Illegal fuels
10. Failure to work track crew when required
***All rules***
All rules and safety features are subject to the inspection and interpretation of the Safety Inspection Committee. If you are building in a "grey" area, it does not make it legal. Please discuss these areas with a safety inspector prior to buying or building these parts.

***Protest Policy***
Any tractor may be subject to protest.
There is a $250 protest fee.
If the tractor is found to be illegal the protestor will receive their money back
and the tractor in question will be disqulified.
If the tractor is found to be legal the protestor will forfeit their protest monies.

This rule applies if any part is removed from the tractor.